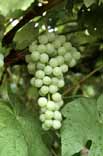 from hort.cornell.edu
I have no
Book of Good Farming
, but when the local pharmacy put out its early veggies I could not resist. Yes, a few pretty flowers dropped into the car as well - but
garlic, snap peas and spinach
will get going today. I've also picked up a third grape vine, a
Himrod seedless white
; that gives us a good collection of light and dark grapes for juice and snacking starting in about sixteen months. I had been contemplating Interlaken grapes but none were available, and this is a cross-breed of the same lineage so who's to know?
The autumn of '16 will be a good one for several reasons, so the
Canadice
and
Himrod
(oops typed Nimrod, that won't be the last time I'm sure) will be a nice vintage for our table! Assuming some Gewürtztraminer vines show up soon at the local shop, it could truly become a vintage and not just juice; we'll know more about that in ... maybe fourteen months :·)
The arrival of plants for the garden strongly suggests that the garden begin to take shape! It's currently a pile of leaves atop some gravelly soil with a tiller in the garage. The upcoming forecast is reasonably dry, so I'll need to start testing that tiller and get the soil amended. For now though, several nice pots are doing nothing and the bag of potting soil is nearly full, so the true garden is under no huge rush.
In other news, I have finally put up a hummingbird feeder. We own at least four, but at the old address they languished in the garage. I stopped for some nectar mix at my local Ace and they had pre-made nectar (plus another feeder!) for under $5 - so it's now hanging up fairly high in the trees near our deck. My sister usually sees hummers starting around St. Patrick's Day - but given the mild winter they might arrive early. At long last, we are ready for them!